Expositions * Trade Shows
Business Meetings * Corporate Events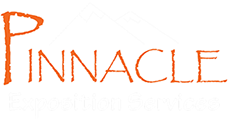 March 27 - 29, 2017
Loews Philadelphia Hotel
Event Hours
Monday, March 27
Tuesday, March 28
Wednesday, March 29
Exhibitor Set-up/Breakdown
Exhibitor Move-In
Monday, March 27
Exhibitor Move-Out
Wednesday, March 29
12:00 pm - 6:30 pm
7:00 am - 5:45 pm
7:00 am - 10:15 am
Advanced Shipping Address
Pinnacle Exposition
Cargo Solutions C/O Eagle Trucking
900 CALCON HOOK RD
SHARON HILL, PA 19079
Show-site Shipping Address
Pinnacle Exposition Services
C/O Loews Hotel Philadelphia
1200 Market Street
Philadelphia, PA 19107
Our on-line ordering system provides you with the ability to order a wide range of products and services as well as access important show information, forms and dates which include move-in/move-out schedules.
To receive an additional discount on select items, place your order on-line prior to the deadline date of March 13, 2017.
If this is your first time using our on-line portal, please email us at info@pinnacle-expo.com for your user-name and password.
If you need assistance preparing for a successful event, please contact Exhibitor Services at (855) 451-6893 or use our online chat system in the lower right hand corner.
11:00pm EST
8:00 am - 5:00pm, M-F
5:00 pm
6:30 AM – 9:30 AM
1:00pm
Discount Price Deadline
Monday, March 13, 2017
Advanced Freight Receiving Start
Monday, March 13, 2017
Advanced Freight Deadline
Thursday, March 23, 2017
Show-site Freight Receiving Start
Monday, March 27, 2017
Driver Check-in Deadline for MOVE-OUT
Wednesday, March 29, 2017
Pinnacle Exposition Services LLC
Corporate:
69 Willirene Way
Clayton NC 27520
Phone: 855-451-6893
Fax: 855-475-7248
All items are Copyrighted to Pinnacle Exposition Services LLC 2016